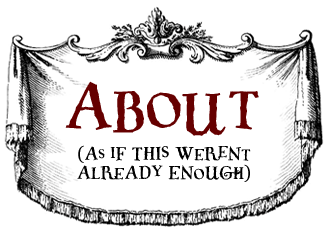 What is this, and how did it get here?
I began Bite Me in the winter of 2000, when I had a bunch of free periods in my senior year of high school, a burning desire to simultaneously make fun of A Tale of Two Cities and Interview With the Vampire, and easy access to a scanner I had gotten for Christmas the year before.
I began posting pages at the rate of one a week on my own little website: being on the web, and being a comic, it thus became a webcomic.  In 2002 I was asked to join Girlamatic.com, a subscription-based website in the ModernTales family.
I completed it in 2004, my junior year of college, having spent a semester on-site in Paris the previous year.  The comic became free again after its completion.  It is now hosted independently by me and is still free to read – and it's also available in a shiny print edition (from my own imprint, Elea Press) for your bathroom-reading pleasure!
Who are you?
I'm a cartoonist and writer living in Portland, Oregon.  My name is Dylan Meconis: despite this fact, I'm of the female persuasion (although sometimes having a male name on the internet is dreadfully handy).
For more information on me you can visit the cunning bio page at my main website.  For now, take it on faith that I have a scintillating wit, am great at parties, and do laundry every Thursday night and fold it right out of the dryer.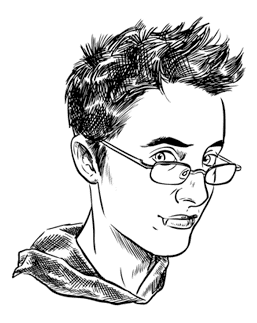 I also eat children, but only the ones who misbehave.  Pass it on.
What did you use to make the comic?
All of Bite Me! was drawn on normal printer paper – heaven help me.  I would typically scribble the dialogue on the back of the page, coming up with it each week as I went – there was never a complete script!  Then I would flip the page over and draw most of the content with a mechanical pencil.
I then used Micron technical pens to ink the lines.  Next I would add fields of solid grey and black using Prismacolor markers (the since-discontinued "Tria" line, now the "Premier" markers).  Then I would add extra shading using that same mechanical pencil.  White lines were applied using various gel pens.
I can recommend this technique to nobody.  It produces beautiful-looking pages in real life and on-screen, but it's expensive to reprint all those subtle greys, and while the thin printer paper allowed for the markers to look very creamy and act like ink washes or watercolor, it also makes for some very frail pages!
Why'd it take you so long to get it printed?
The comic actually made the rounds at a number of publishers, where it received a healthy amount of interest for a book with a shifting art style begun by a teenager and sent out unsolicited.
In the end, however, the very reasonable but labor-intensive demands made by publishers (ie "can you make the lettering legible", "can you make the art not look like it was drawn by a teenager between classes", etc), the need to earn a living for the very first time, and the sudden realization that having artwork done by myself at a very young age suddenly marketed as contemporary work might not, in fact, be a great career booster.
I spent those four years saving money, learning a lot about preparing comics for print, making friends in the industry, acquiring an agent, and all sorts of useful things that result in a much savvier Dylan, and hopefully a better book for you.
I also figured out that, if I could print the book myself, I could control its distribution and earn more money from sales than I would with a publisher.  So I did, and it's been a  great experience.  Great thanks are due to all of you who have waited so patiently to see me come back to this project and kick it back out into the world.
Do you make a living doing this?
Boy, I sure hope I do!  If you would like to see more of this stuff from me, please consider buying the print edition, other merchandise, placing ads on this site, or making a donation.  All the money goes straight to yours truly.
Hey, doesn't this comic have spoilers for your other comic?
No, not really.  While Family Man does feature two characters originally inspired by their Bite Me! namesakes, they're from quite different stories taking place in different worlds, where even the rules of physics diverge considerably.  Nothing about vampires, werewolves, or particular personal destinies is consistent between them – and in fact, because I'm contrary, they're sometimes the exact opposite.  So rest easy, gentle reader.
Where can I find your books for sale/meet you in person?
Currently books are for sale via this website, or at several comics shops in Portland.  Although if you are a retailer interested in stocking Bite Me!, please contact me with a stock request.  All my books come fully equipped with ISBN and barcode information so they're shelf-ready.
The best way to see me is to attend one of the many comics conventions I'll be appearing at in the future.  I am always at the Stumptown Comics Fest in my home town of Portland, OR, APE in San Francisco, and often appear at other comics conventions outside of the West coast, like MOCCA, SPX, TCAF, and even (god help me) the San Diego Comic-con.  Although that last one only on leap years, it seems.  It takes me that long to recover.
You can check the appearances section on Family Man's site for information on my next appearances!
I'm a member of the press.  I want more info.

Please send me an e-mail at dmeconis@gmail.com with subject line PRESS REQUEST.  I will furnish you with the address of my top-secret press page with press release information, author images, and more.  Please tell me which publication or blog you write for!